Haval Jolion is sold not only in its native China and Russia, but also in other countries, including Australia and New Zealand. In these countries, there is an analogue of the European crash test methodology – ANCAP, and all new cars entering the market are tested. Jolion was no exception: the Chinese crossover earned five stars out of a possible five. During crash tests, security experts identified its strengths and weaknesses.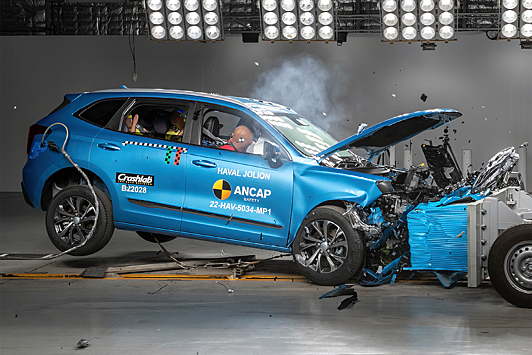 A photo: © ANCAP Safety classifications© ANCAP Safety classifications
The Australian methodology, like the European one, provides for several crash test scenarios, during which the safety of the driver, adult passengers, children and pedestrians, as well as the operation of the auxiliary systems, are assessed.
Haval Jolion demonstrated high protection for adult occupants in a frontal impact with full overlap: 7.34 points out of a possible eight. In a side impact with a post, the crossover won six points out of six, and protection against whiplash in front and rear collisions was 2.98 points out of three and 0.75 points out of one, respectively. Rescue in the event of an accident and evacuation of the cabin were taken to a separate category: Jolion's result was two points out of two.
But there were also complaints. So, for example, during a strike with an overlap of 40 percent, Haval Jolion scored only 6.69 points out of eight. Summary and side impact – only 4.96 points out of six. At the same time, the overall safety rating for adult passengers is 90 percent.
Child passenger safety was rated 84 percent. The final result was affected by the lack of child seat anchorages (eight points out of 13) and a frontal crash (13.18 points out of 16). At the same time, in a side clash, Jolion scored eight out of eight points.
The score for pedestrian safety was 64 percent. Hitting a person can seriously injure a pedestrian's upper legs. The weak side of the model turned out to be the automatic braking system in front of the object: it is not very effective in recognizing pedestrians and cyclists. But experts highly appreciated the work of the car's lane keeping systems, intersection assistance and driver condition monitoring.
In short, the Haval Jolion's safety rating for the Australian and New Zealand markets was higher than the Suzuki Jimny, Hyundai Palisade, Citroen C4 and Jeep Wrangler.