The Baojun brand ("Precious Horse" in Chinese), part of a joint venture between General Motors and SAIC, has announced a new model. It is a small crossover with an angular two-door body, reminiscent of the Suzuki Jimny, but smaller in size. The length will be only 3.4 meters – at the level of the common Daewoo Matiz in Russia. The small car will be driven by a power plant, and local media predicted two electric motors for it at once.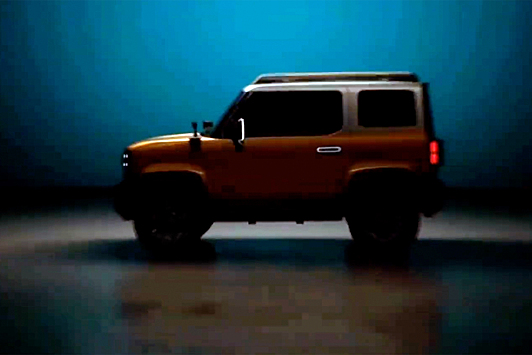 A photo: © Baojun© Baojun
The new Baojun will have traditional SUV body proportions with short overhangs, a roof with rails, dark A-pillars and unpainted bumpers. The doors look large, indicating a short wheelbase. Futurism is added by the front plug instead of the radiator grill, combined with the "dotted" LED headlights, and behind you can see the lights in the form of open rounded rectangles.
The crossover was announced during the market debut of the electric car Baojun KiWi 2023. It is possible that the still unnamed novelty is built on the same platform that also underlies the Wuling Hongguang Mini EV, the best-selling electric car in China.
As for the power plant, according to some media reports, the crossover will get two electric motors with a total capacity of about 109 horses at a time. The capacity of the traction battery will be 31.9 kilowatt-hours, which will provide the car with up to 300 kilometers of travel on a single charge.
The debut of the new Baojun car is expected in November 2022 at the Guangzhou Auto Show, and sales in China may begin in early 2023.
In the summer, the Chinese car manufacturer Changan launched the "cartoon" electric car Lumin in the domestic market. The car is even smaller than Baojun's novelty: its length is only 3.3 meters. The cost of Lumin starts from 48,900 yuan, which in terms of rubles is about 420 thousand. For comparison, for Lada Granta in a simplified version, they now ask for 678,300 rubles.