The company presented itself with the new Mercedes eActros LongHual. The new 100% electric Mercedes truck is equipped with three batteries and has a range of about 500 kilometers. It's ahead of the production version, which will hit dealerships in 2024.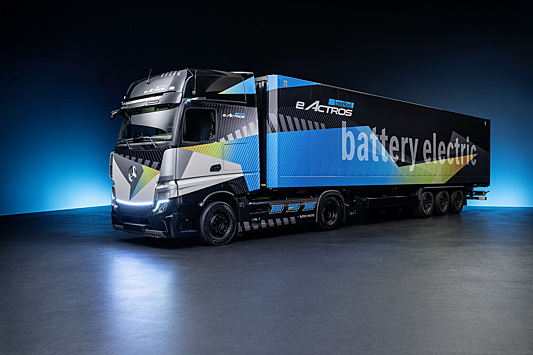 A photo: PNZdrivePNZdrive
The design of the new eActros LongHual that was shown to the public is not the final version of the car that we will see on European roads in a few years. This is a prototype close to production that will undergo several changes. You only have to take a look at the published images to discover its most characteristic features.
The headlight clusters create a bright, modern light signature. Digital rear-view mirrors added to various body elements showcase sophisticated aerodynamics. Something important in an electric car and even more so in trucks.
As an all-electric vehicle, all eyes are naturally on the power plant. Inside the new eActros LongHual are no less than three rechargeable batteries. Batteries whose total added power exceeds the 600 kWh barrier. Modern technology requires such a large volume to deliver solvent performance in a vehicle of this size and weight.
The energy stored in the batteries is used to power two electric motors that develop 544 hp. For short periods of time, this power can reach 816 hp. As for autonomy, with a single charge you can travel around 500 km. The production process will start in 2024. Its launch will mark a turning point in the transition to sustainable mobility carried out by the truck division of the Mercedes-Benz Group.