The State Duma approved in first reading amendments to the draft law regulating the movement of vehicles near the borders of the Russian state. This was reported on the website of the State Duma. The project gives the government the right to make decisions on changing the organization of road transport on road sections near checkpoints. In particular, the document sets out the possibility of introducing electronic queues for the unloading of roads.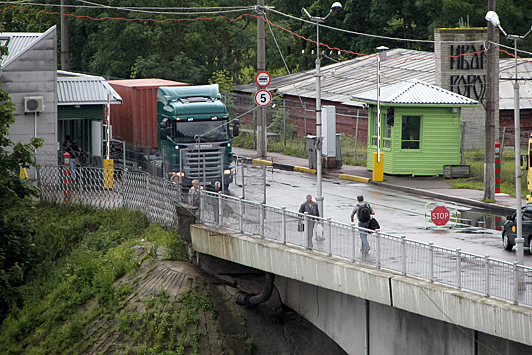 A photo: © HendrixEesti / Wikipedia© HendrixEesti / Wikipedia
In case of final approval of the bill, the right to change the traffic order at the state borders of the Russian Federation will belong to the government. The electronic queues will make it possible to "unload roads near checkpoints and streamline traffic, including goods traffic." It is not yet clear how the queues will be organized.
The State Duma website notes that the bill was developed as part of a plan to support the Russian economy in the context of sanctions imposed by the West. They changed the conditions for the supply of goods to the country, which created difficult situations at the borders. Under such conditions, "unregulated queues" at the entrance to checkpoints slow down trade across the border, officials said.
It has been reported that the sought-after Zabaikalsk checkpoint on the border with China could become the first point where the new rules would operate, but there is no official confirmation of this.
From October 1, 2022, Russian drivers will be able to present electronic driving permits to traffic police officers. The certificate can be displayed in the "Gosuslugi Avto" mobile application. This possibility is being introduced in test mode, but by the end of the year it is planned to finalize the translation of the document into digital format.