The place of the Tula region was named in the "National environmental rating" of the regions of the Russian Federation according to the results of the summer of 2022. This is reported by the public organization "Green Patrol" of all Russia.
The ranking reflects developments in the field of ecology in all regions of Russia from June 1 to August 31, 2022. According to the results of last summer, the absolute leader is the Tambov region. In addition, the top ten included: Belgorod Region, Altai Republic, Kursk Region, Moscow City, Chukotka Autonomous District, Altai Territory, Kostroma Region, Chuvash Republic and Chechen Republic .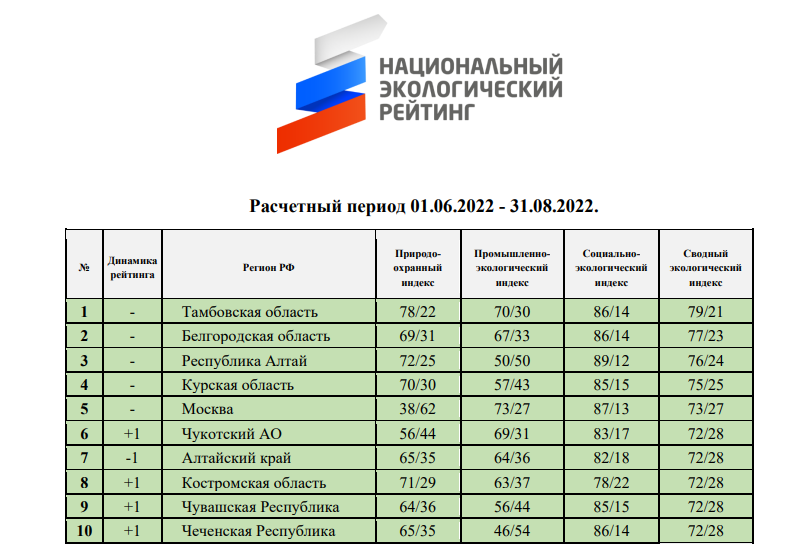 The last place in the ranking was assigned to the Omsk region. Also among the laggards on the list are the Jewish Autonomous Region (76th place), the city of Sevastopol (77th place), the Republic of Sakha (Yakutia) (78th place), Primorsky Territory (79th place), Chelyabinsk Region (80th place). place), Krasnoyarsk Territory (81st place). ), Trans-Baikal Territory (82nd place), Irkutsk Region (83rd place), Sverdlovsk Region (84th place).

The rating is calculated by the Information and Analysis System (IAS) based on 21 indicators in three main areas: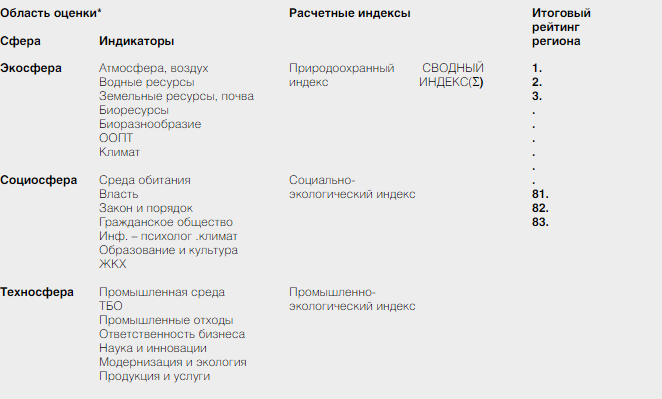 Inside the ecosphere take into account problematic environmental objects and processes in the region; control the content of harmful substances in the air, water masses and soil; map of favorable and problematic areas of the region; take into account damage from natural disasters; study the conservation, increase and rational use of bioresources, etc.
Within the sociosphere oversee the implementation of legislative activities to improve the human environment; monitor the implementation of the legislation of the Russian Federation in the field of environmental protection and ecology, etc.
Finally, the technosphere involves assessing the level of environmental damage or the potential risk of environmental damage; promotion and dissemination of the best experience, stimulation of environmental and resource-saving activities; reconstruction of existing and construction of new treatment facilities; introduction of innovative environmental technologies, etc.
According to the results of the study, the Tula region was on the 70th line of the environmental classification among 85 subjects of the Russian Federation. At the same time, there is no dynamic in the region, that is to say, the indicators have not changed since last year. The environmental index of the Tula region was 45/55, the industrial-ecological index was 46/54 and the socio-ecological index was 74/26. Finally, the composite environmental index is 57/43.
A detailed description of each element of the study can be found on the official website of the public organization. Also, on the page with calculations for the Tula region, there is a decoding of the indicators. For example, a "minus" appeared in the habitat assessment due to the fact that the region began to check the fact that summer houses were flooded with sewage:

Brief information on the ecological status of the Tula region is presented in the table: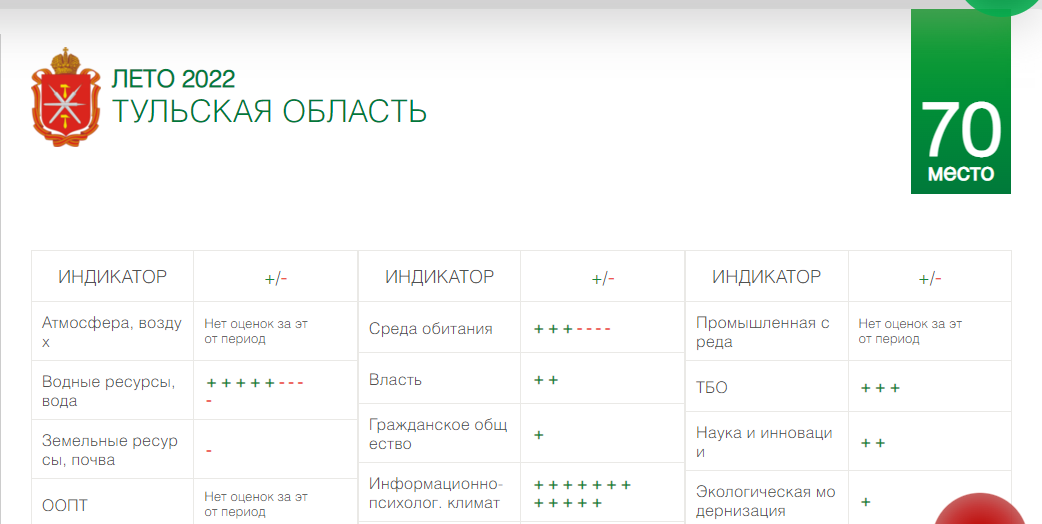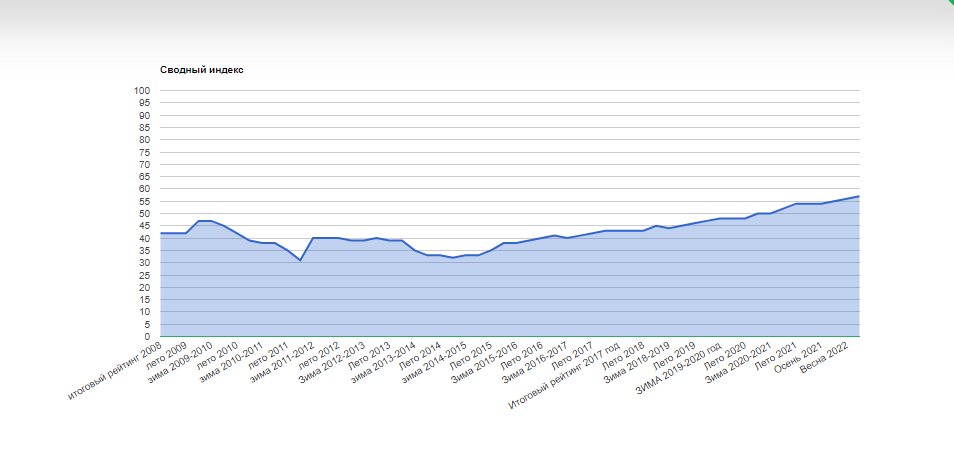 In the ecological classification of the Central Federal Districts, the Tula region ranks second to last, 17th: